Once upon a time, blogging used to be a creative hobby.
Ordinary people published online journals of their life and experiences, that others could read and comment on.
It was a way to build community amongst those who shared similar interests across the world wide web.
My, how things have changed!
Blogging is no longer just a passive hobby reserved for the weekends.
It has become a powerful online marketing tool that builds brands, engages the audience and grows businesses.
In case you're wondering if a blog is really essential for your business, here are some of the latest statistics in this regard:
Small businesses that blog get 126% more lead growth than small businesses that do not blog. (ThinkCreative)
Companies that blog have 97% more inbound links. (Hubspot)
61% of U.S. online consumers have made a purchase based on recommendations from a blog. (BlogHer)
60% of consumers feel more positive about a company after reading custom content on its site. (Content Plus)
81% of U.S. online consumers trust information and advice from blogs. (BlogHer)
Statistics Courtesy: ActiveBlogs
There's no longer a question of "if" your business needs a blog, it's just a matter of "when"!
And if you ask me, I'll say, "Right away"…
There's no time like the present!
But before you jump in with both feet and start your business blog, let's look at a few basics.
What is a Business Blog?
A business blog is a marketing medium that you can use to interact with your audience. You can use the blog to share valuable information that's beneficial to your readers, which will eventually convert them into paying clients.
In case you are hesitant about what blogging entails, let me assure you…
Blogging is not rocket science!
In fact, sharing thoughts, concepts and trivia related to your business is easier now than ever before.
Your company's blog can contain tips and tricks, ideas and concepts, debates and thought processes that are related to the pains and struggles of your target audience.
The key purpose is to share valuable insight and information with readers around the world, and also to interact with potential and existing customers.
When your blog does this and does it well, it can easily become a trusted source of information for your audience. When your readers are enamored with your content, they will share it with their friends and acquaintances online.
This in turn, means higher search engine rankings for your blog and website, which translates to better brand awareness.
Why Should You Consider Business Blogging?
Here's a roundup of all the definite reasons why you should consider business blogging.
1. To gain more exposure for your business
A company blog that shares helpful, relevant content increases your opportunities to meet sales prospects, possible business partners and future employees. Someone may find your blog content through a search on Google; perhaps from an industry peer who shared your blog post on a social media platform.
Ultimately, when you create great content that people want to save and share, you can put your brand in front of a group new people—people you may not have actually met.
2. To drive traffic to your website
Each time you share a blog post, it's one more indexed page on your site, which means an opportunity for you to show up in search engines and drive traffic to your website in organic search.
3. To improve search engine visibility
Blogging can be of great advantage for SEO (Search Engine Optimization). Both search engines and people prefer new content. It shows relevance.
Incorporating related keyword phrases to your content can help you expand your reach and target additional search traffic.
4. Grow your knowledge base
Another advantage of blogging is, it makes you stay up to date on your industry. You have to be updated on the latest news, trends and advancements in order to blog about it.
By assessing and synthesizing all this information, you're exercising those brain muscles and critical thinking skills. Blogging will keep your mind sharp and increase your knowledge.
5. Boost your credibility
Does your "About Us" page say you're cutting edge and that you put customer education first? Then your blog shows that you mean it. It will prove that you do share resources, tips and other information that benefits and helps readers.
6. Gain a competitive advantage
Genuine customer service, expertise, trustworthiness, better search rankings—all of these give you a competitive advantage. They help your audience distinguish you from your competitors.
How to Start a Successful Business Blog
Now that you know why you should consider creating a company blog, let's move on to the next step – how to get started with business blogging.
There are several steps you need to keep in mind while setting up a blog for your company. Most businesses fail to understand the importance of a blog and what will happen if it is not started in the right manner.
Before going into the technical setup of your blog, there are some preliminary decisions you need to make. You will have to dissect your business plan and answer a few questions to help you identify the purpose and direction of your business blog.
So, here is a preparatory checklist that you can follow while you build your business blog. This will ensure that you put your best foot forward and create a blog that is indeed valuable to your company.
1. What is the purpose of your blog?
The first and foremost thing to decipher before creating a blog is the answer to the question: why you are doing it? You must be aware of the purpose of your blog.
Do you hope to make money through the blog?
Do you want to use it to promote your product/services?
Will your blog create awareness about social issues?
Do you want to share information on subjects you are well acquainted with?
Finding answers to these questions will help you to understand the purpose of your blog.
Ideally, your blog should get readers hooked on to your content so they sign up for what you have to offer. These prospects can then be followed up and converted into paying customers.
If you want to convert casual blog readers into clients, the purpose of your blog must be evident from the get go.
For example, if you are operating a tour company and you want to start a blog for your business, what will be its purpose?
Undoubtedly I'll say, the main purpose of your blog will be to educate travelers about travel planning and different tourist locations. The blog can also be used to promote the different services offered by your tour company.
You can determine the purpose of your blog by circling back to your business goals. Create a purpose statement for your blog that will help you grow your business.
Once you are clear about your blog's purpose, you can then move on to the next step – deciding what you want to achieve with your blog.
2. What are the goals or results you want from your business blog?
The major goal of any business blog is to generate leads and build the client database.
Obviously, this goal can only be achieved if it is defined properly and broken down into weekly/monthly targets.
Let's continue with the tour company's example. The ultimate purpose of the blog is to get more people to sign up for tour packages.
So, their monthly blogging goal could be: 50 leads to be generated.
What can they do to achieve that goal? It can be broken down into the following:
Publish 2 articles
Share 1 infographic
Reach 1000 blog readers
These tasks all have one common goal – get readers to sign up for a particular tour package.
So, each piece of content that is shared on the travel blog will be related to the travel locations covered in the tour package. It should also contain credible information that entices casual readers to contact the tour company.
Now you can see that what you share on your blog will be responsible for the success of your business goals.
But for you to share content that resonates with your target audience, you need to first understand who you are talking to.
3. Who is your ideal reader?
For most businesses, their ideal readers are the people who read their blog and eventually become paying customers.
Your ideal reader persona will help you create and customize your blog content in order to appeal to your target audience.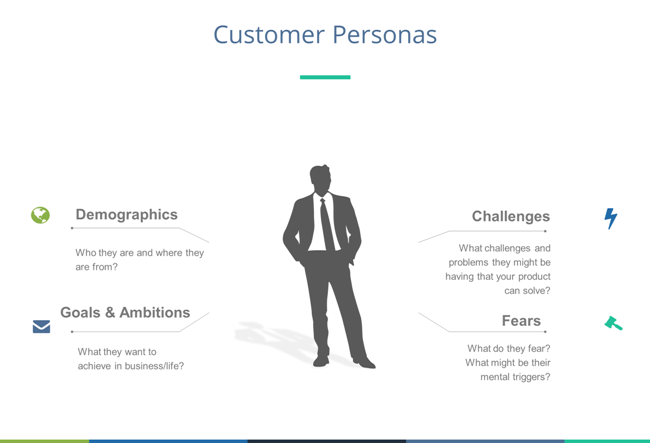 Going with the tour company example, their ideal readers would be people who want to plan their travel itinerary. So, there can be 3 ideal personas: individuals, families and corporate groups.
Each of these personas need to fleshed out with specific details such as as their:
Age
Gender
Location
Hobbies
Employment
Industry
Income
Family status
With this data, the company can identify pain points and struggles that these categories of people face with respect to planning their travel. One tip is to put yourself in their place and imagine the difficulties and challenges they might face with holiday planning.
Once that is clear, blog posts can be published to address the issues and also project how the tour company can help them plan their holidays with ease.
When you speak your readers' language and offer them correlating solutions through your blog content, they will be more likely to take up your offer.
Once you've identified your ideal reader and their poin points, it's time to think about the blog content. And in order to write meaningful content for your ideal reader, you should come up with a content plan.
4. Create the content plan
The cornerstone of a good blog is great content. And it's not possible to structure great content on the fly.
It must be brainstormed and systematically planned.
In order to create the content plan, you must first get into your ideal reader's mind and determine what information they might be looking for.
The key is to present quality blog content that moves your reader from general awareness to serious buyer.
Here are some content ideas that you can flesh out for your own business:
How to articles
Step by step tutorials
List of tools and resources
Interviews to establish authority in your niche
Articles that showcase your expertise
Case studies that outline how you solved pertinent issues
As you plan your content, make sure your ideas keep your audience front and center. Your content should focus on the reader and the problems they face.
When you provide substantial content that is useful to them, you make your readers want to buy from you.
Once you've decided the content topics you'll blog about, you need to decide the format of your blog content.
Some commonly used formats are: text, videos, memes, infographics, interviews, case studies, etc…
While creating the content plan you should also consider your goal, ie. What do you want your readers to think/do after reading your blog?
Do you want them to be motivated, influenced, and moved to action?
Each content piece should have a Call to Action (CTA) telling readers what to do next. Since your content acts as a lead generator for your website, you must be precise on what you want them to do after perusing your blog.
Let's continue with our tour company example. A blog post on "How to plan your summer vacation" can end with a call to action, directing readers to download an eBook on "Best Summer Getaways".
Once readers enter submit their details and download the eBook, they can be contacted with offers on summer tour packages. This would urge them to move from casual reader to a paying customer with just a few clicks.
While creating your own content plan, make sure you think from your readers' point of view. This will ensure that the content you create will urge them to take action.
5. Create an editorial calendar
Now that you've determined what you want to share on your business blog, it's time to go deeper and act on the content plan.
By now, you would have an idea on the different categories of content you want to share on the blog.
For example, a travel website could include content in the following categories:
Popular destinations
Travel tips
Tour guides
Come up with a list of 5-10 keyword-rich blog categories. You can always expand on your categories as you continue blogging and add sub-categories as and when required.
Once you have your categories in place, you can start building your editorial calendar. This will help you plan your content ahead of time, improve your authority on niche topics, and become the go-to person for your readers.
The starting point of creating an editorial calendar for your blog is figuring out how much time you can dedicate for your blog each week/month.
The most efficient and successful blogs are those with fresh, new content posted at regular intervals. You can start off by blogging just two to three times per month.
While it may be beneficial to blog more often, right now your focus should be on starting the blog and keep it going at a manageable pace.
You don't have to publish articles just for the sake of keeping your blog updated. That would be doing yourself and your readers great injustice.
If you're short on time, you can always outsource some of the content writing so you are relieved off some of the pressure to consistently create quality content.
Come up with a few blog ideas for each of your categories. Then space them out and decide when each of them should be published.
Here's the complete list of elements that your editorial calendar should contain:
Blog post idea
Date of publishing
Person responsible for the content
Person responsible for relevant graphics/images
Person responsible for publishing the blog post
Target keyword
SEO title
Call to action
You can create a spreadsheet for each month and keep it handy, so you can update it as you solidify your blogging plan.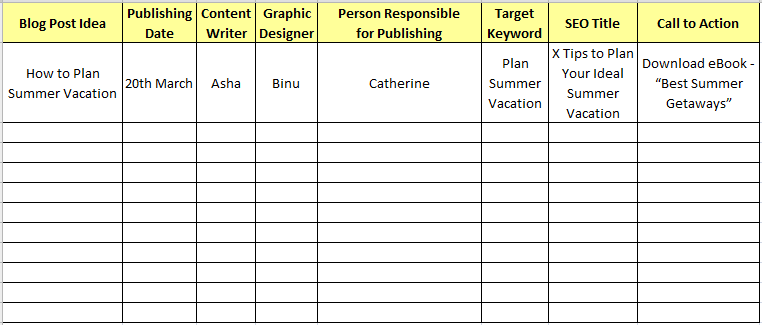 You can plan the publishing schedule for the forthcoming week, month or even a year in advance. But the calendar should be updated regularly so you can keep track of it.
6. And last but not the least, build your blog
Now that the initial research and planning is done, it's time to build your blog. You have to first decide where you want to blog.
You can either blog on a third-party platform like WordPress.com, Blogger, Medium, etc., or on your own website.
If you opt for the latter, there are many reliable and easy to use blogging CMS (Content Management System) available like WordPress,TypePad, etc. that can be installed on your web server.
Take some time to find out which platform you are comfortable with and then you'll be ready to set it up on your website.
Now let's get into the technical aspects of setting up your business blog.
Step-by-Step Guide for Blog Set Up
I am assuming that you already have a domain and a self-hosted business website. If not, you should start by registering a domain, pick a web hosting provider and set up your business website.
For the purpose of this article, we're opting for WordPress as the blogging CMS.
Once your website is up and running, follow the steps outlined below to set up a self-hosted WordPress business blog.
Steps to Install WordPress on Your Website
1. Login to cPanel on your web host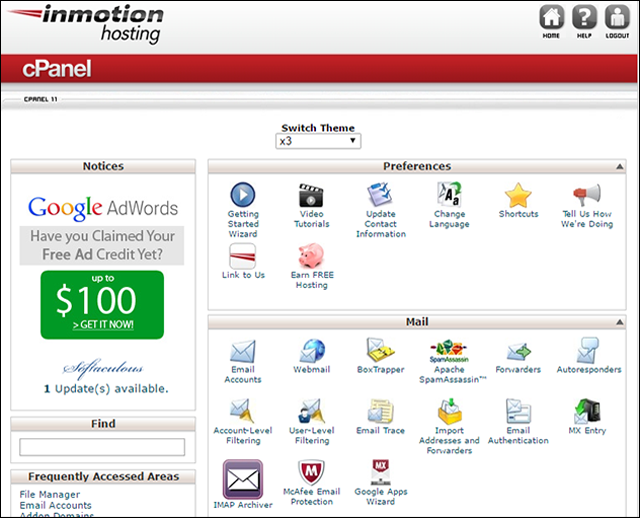 Login to the cPanel, the tool which helps you manage your web hosting account through a web interface.
2. Search for the Site Software menu.
In some cases, WordPress icon will be present in the site software menu, whereas for some, it is either called as Simple Script, Softaculous or Fantastico De Luxe.
In this particluar example, Softaculous is the software available.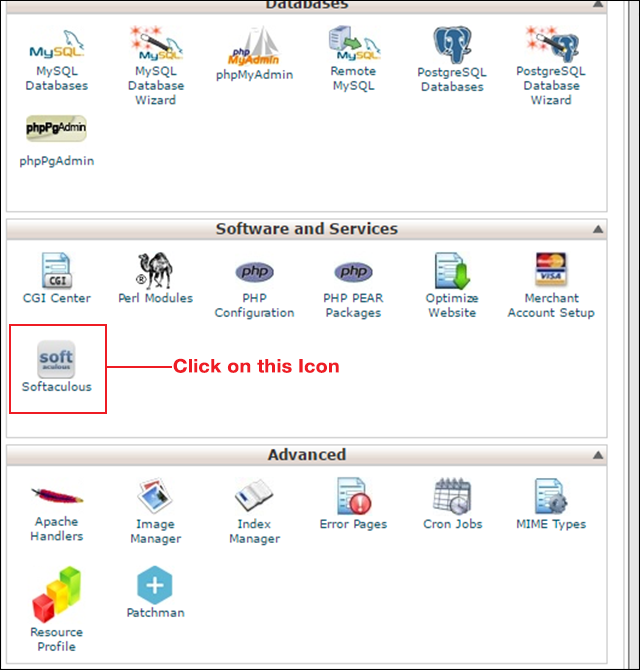 3. After clicking the Softaculous software, you will be presented with a lot of one-click script and software options. Select and click the WordPress icon from there.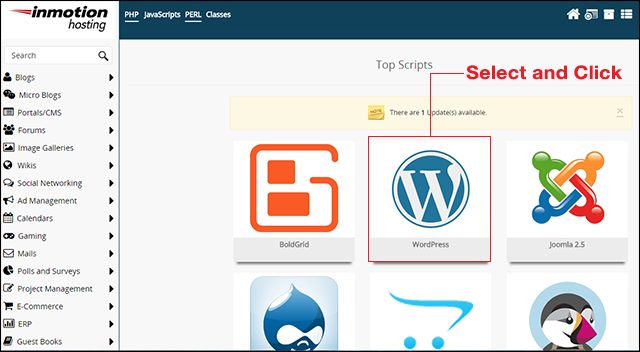 4. And then, Click on the Install now button.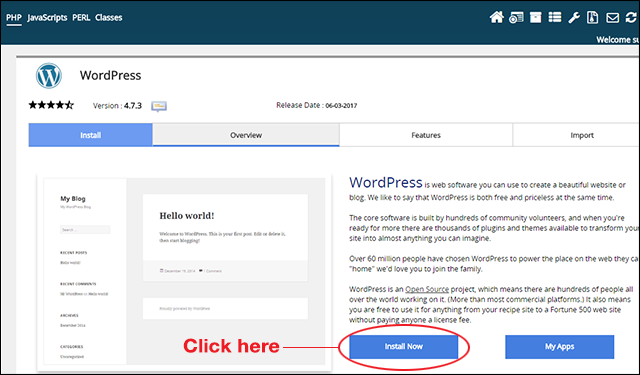 5. At this point, you'll be asked to fill in the domain and directory details.
You can choose any name for the subdirectory. To make it simple we've chosen the directory name as 'blog'. WordPress will be installed in the subdirectory called /blog.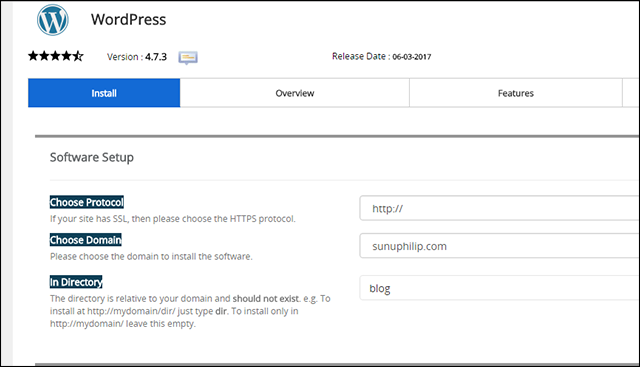 6. Next fill in the details for the site settings. Here Admin username, Password and email id is a must because you'll be needing those details to log in again to your WordPress dashboard.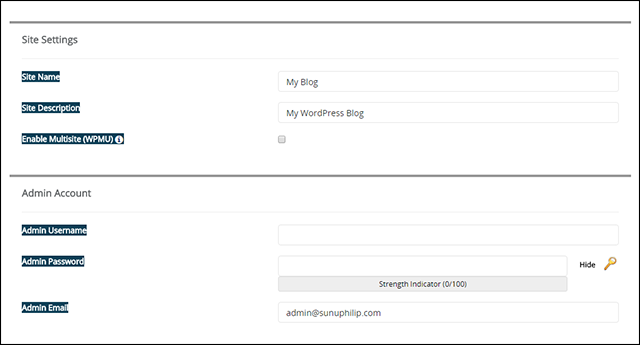 7. After filling all the details, hit the install button. It might take a couple of minutes to complete the installation process.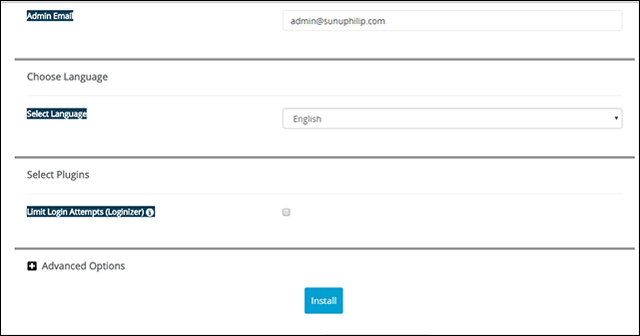 Then you'll get an installation completed message.
So, your business blog is ready to go.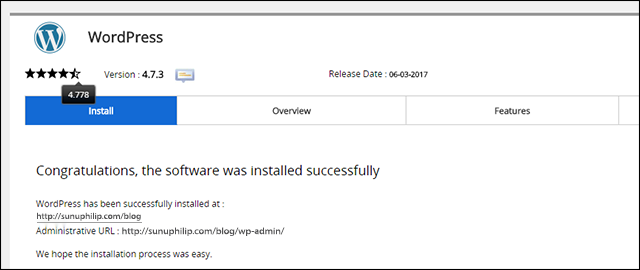 8. Now you can log in to your WordPress dashboard with the credentials you filled in earlier.
9. Choose a theme
WordPress has thousands of free and premium themes available. Pick a theme that would resonate with your audience and customize it so it matches with your current website.
10. Execute the content plan and get writing!
If you've already followed the first part of this article and done your groundwork, it's now time for action. Execute your content plan, go ahead and write.
You can add a new post from your WordPress dashboard and flesh out your content. Be sure to add a stand-out title, select a category and then hit "Publish".
While outlining your blog posts, focus on the subjects where you have unique insights to share, or where you can really add to the conversation. Don't just repeat what everyone else is saying. Be original and write about the subject matters that are of value to your audience.
A business blog is a surefire way for any business to build a bigger client base. Building a blog on your website is indeed the easiest way to directly connect with new and existing customers.
So, what's stopping you from starting your own business blog?